Opening of the creative kitchen for people Down syndrome sponsored by DP world
September 22, 2022

Posted by:

edsa

Category:

News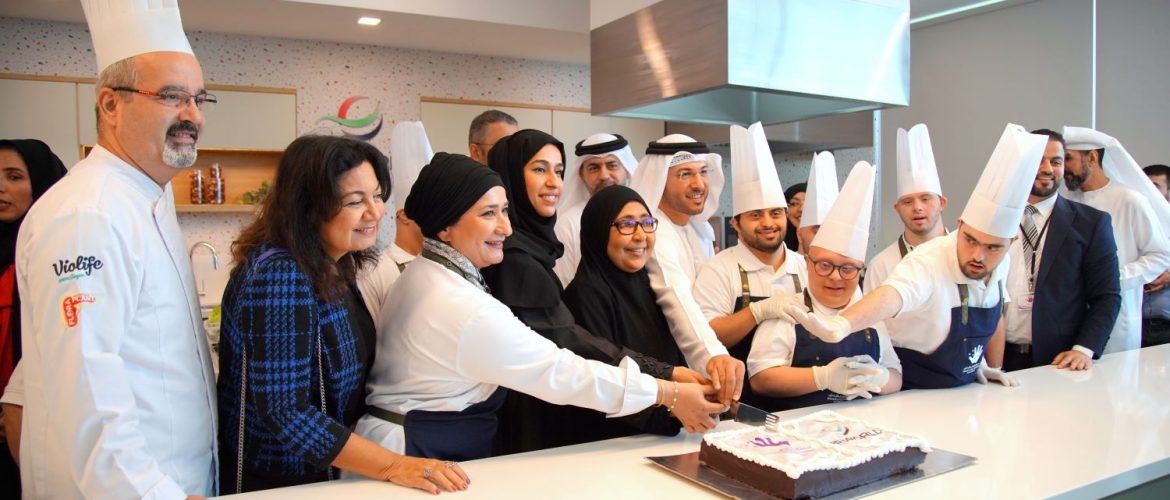 In the presence of Her Excellency Hessa Bint Essa Buhumaid, Minister of Community Development, and coinciding with the celebration of October Down Syndrome Awareness Month, Emirates Down Syndrome Association in Dubai inaugurated the Creative Kitchen to train people of determination with Down Syndrome on cooking skills and hospitality management, which is sponsored by " DP World" out of their commitment to empower people of determination and ensure their inclusion into society.
The creative kitchen comes to train people of determination, in line with the vision of the Ministry of Community Development and its relentless endeavor to enhance the participation of the private sector in supporting the civil society foundations and associations of public interest within the framework of community contribution. DB World provides support for the creative kitchen that reflects its contribution to improving the quality of services provided by Emirates Down Syndrome Association, as the association falls within the associations of public interest under the supervision of the Ministry.
With the latest cooking tools and equipment, the creative kitchen will provide professional training for people of determination with Down syndrome in cooking skills, meal preparations, and hospitality skills, with capacity to train up to 10 trainees per batch.
His excellency Abdulla bin Damithan, CEO & Managing Director, DP World and Jafza, said: "At DP World, supporting sustainable projects that contribute in honing the skills of people of determination, is a key part of our corporate values and culture. The most important thing that encouraged us to take part and support the "Creative Kitchen" initiative was because of its unique and innovative concept in empowering people with Down syndrome through training and rehabilitation, and give them a chance to practice a distinct profession, that enables them to be fully included in the society, and opens up prospects for them to join the hospitality industry, develop their social skills, and make them live independently and productively in our community on an equal footing with their peers."
For her part, Dr. Manal Jaroor, Chairperson of Emirates Down Syndrome Association, said: "We have dedicated ourselves at Emirates Down Syndrome Association with the support from our partners to implement the Dubai Disability Strategy 2020, which embodies the vision and approach of His Highness Sheikh Mohammed bin Rashid Al Maktoum, Vice President and Prime Minister of the UAE and Ruler of Dubai, may Allah protect him, and the directives of His Highness Sheikh Hamdan bin Mohammed bin Rashid Al Maktoum, Crown Prince of Dubai and Chairman of The Executive Council, aimed to include, empower and promoting the participation of people of determination in all life aspects. We have come a long way in this regard and made great progress, thanks to our strategic partners, and in the forefront of them DP World, which consistently provide us with unlimited support, and contributed to charting new career paths for our adults with Down syndrome in the hospitality sector."
Mrs. Nawal Al Nasser, EDSA Vice Chairperson, said: "This project is one of the most important projects that the association has planned over the many years to be able to offer a specialized training that prepares adults with Down syndrome to occupy real jobs in the hospitality sector with an adequate income sufficient to lead a decent life. We aspire this project to be a foundation for providing a continuous and ongoing training for adults with Down syndrome, promoting their recruitment and inclusion."
Since its establishment, the association has been keen to build strategic partnership with leading institutions in both public and private sectors to provide vocational training for adults with Down syndrome, and in this context, the association collaborated Shangri-La hotel and Swissôtel hotel to provide regular practical training in the field of cooking for a period of 6 months every year. With the creative kitchen project, the association is collaborating with international cooking academies to help in designing a framework and implement the best practices and high-quality standards in cooking.
The opening ceremony was attended by Wafa Hamad Bin Sulaiman, Director of Welfare & Rehabilitation Department, Mohammed Al Naqi, Director of Non-Benefit Public Associations Department at the Ministry of Community Development, EDSA Board members and a large number of professionals, consultants, volunteers and specialists in people of determination rehabilitation and training.