The first of its kind in the UAE – Emirates Down Syndrome Association and The Emirates Academy of Hospitality Management signs an MoU
May 5, 2022

Posted by:

edsa

Category:

News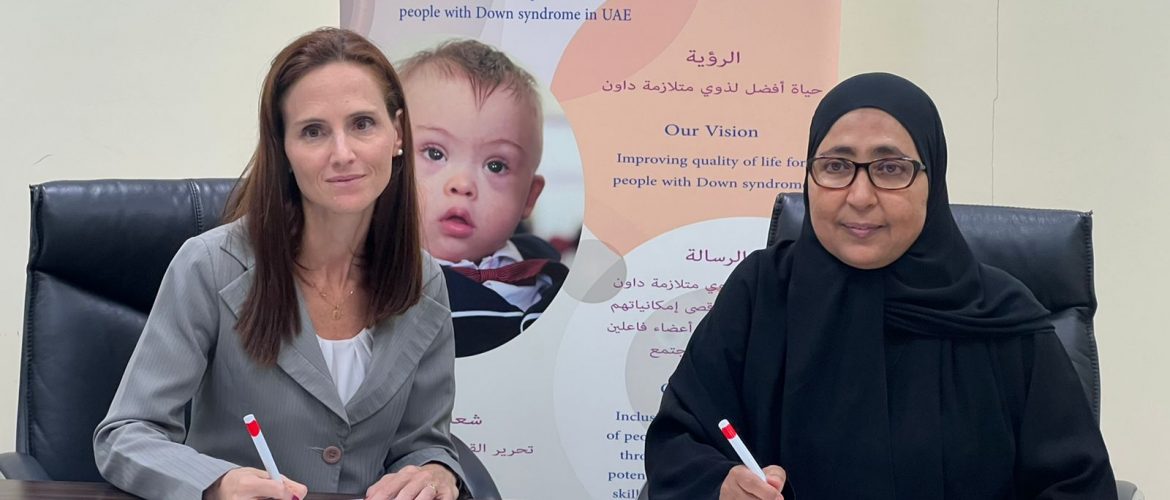 The Emirates Down Syndrome Association (EDSA) signed a memorandum of understanding with The Emirates Academy of Hospitality Management (EAHM) in a precedent, the first of its kind in the country, to provide an experience for people of determination with Down syndrome in the field of hospitality.
The memorandum was signed by Dr. Manal Jaroor, Chairperson of EDSA, and Mr. Jeroen Greven, Managing Director of EAHM at the campus.
Last week, EAHM welcomed 12 adults from EDSA for a practical workshop in its training kitchen where they were given a live demonstration of certain cooking techniques with Chef Michael Kitts, Director of Culinary Arts and a cook-along with Chef Helen Morris, Senior Lecturer.
Dr Manal Jaroor expressed her sincere appreciation and deep gratitude to the Academy on behalf of the Board members, people with Down syndrome and their families for providing this opportunity in this vital sector. She said: "It is not surprising that our country is distinguished by such a great academy, in light of the directions and ambitious vision of our wise leadership to always be at the forefront in all fields."
Mr Jeroen Greven said, "We are delighted to collaborate with Emirates Down Syndrome Association to run hospitality-oriented workshops throughout each academic trimester here at The Emirates Academy with respected faculty members drawn from all over the world. We are happy to expand our partnership in different inclusive education formats to allow people of determination with Down syndrome to obtain practical training at the Academy. We believe this initiative will advocate for long-term system change."
The Vice Chairperson of EDSA, Ms. Nawal Al Nasser, thanked the academy for providing the opportunity for adults with Down syndrome and said: "The practical programmes offered at EAHM are beyond imagination according to the highest international standards, and this excellence is a common thing to see at our beloved country. Our 12 trainees are privileged to receive training at the academy"
The EAHM Enrolment Manager, Ms. Riman Oueiti, shared her satisfaction: "We are proud of our partnership with the Emirates Down Syndrome Association, and are delighted to welcome them at EAHM, supporting their inclusion through professional trainings like EAHM students."
About The Emirates Academy of Hospitality Management:
The Emirates Academy of Hospitality Management (EAHM) in Dubai is one of the world's leading hospitality business management schools and an integral part of the global luxury hotel company, Jumeirah Group. It is a leading provider of university-level hospitality business education and offers undergraduate and postgraduate degrees designed to develop future hospitality leaders.
Located just opposite the iconic Burj Al Arab, EAHM is set in a vibrant neighbourhood packed with unique prospects and opportunities. Students have the opportunity to grow, learn and thrive in the first university in the Middle East to specialise in hospitality, and embark on a rewarding, lifelong career. To date, EAHM is recognised as number 1 in the region by QS Subject Rankings 2022 and ranks among the top 10 hospitality schools worldwide according to Educations.com.